Availability as of Dec 1st
Available December weeknight evenings: Dec 5, Dec 6, Dec 12, Dec 20, Dec 25, Dec 26, Dec 28
Available December weekend dates: Saturday Dec 23rd, Saturday Dec 30, and Sunday Dec 31
Multi-day events during the week with overnight setup (e.g. multi-day workshops) cannot be booked in December due to evening bookings
Some

weekdays

in December are still available for events that end by the mid-afternoon. Email info@bvmuseum.org to discuss a specific date.
Thank you for your interest in booking the Old Church for your holiday season event!
History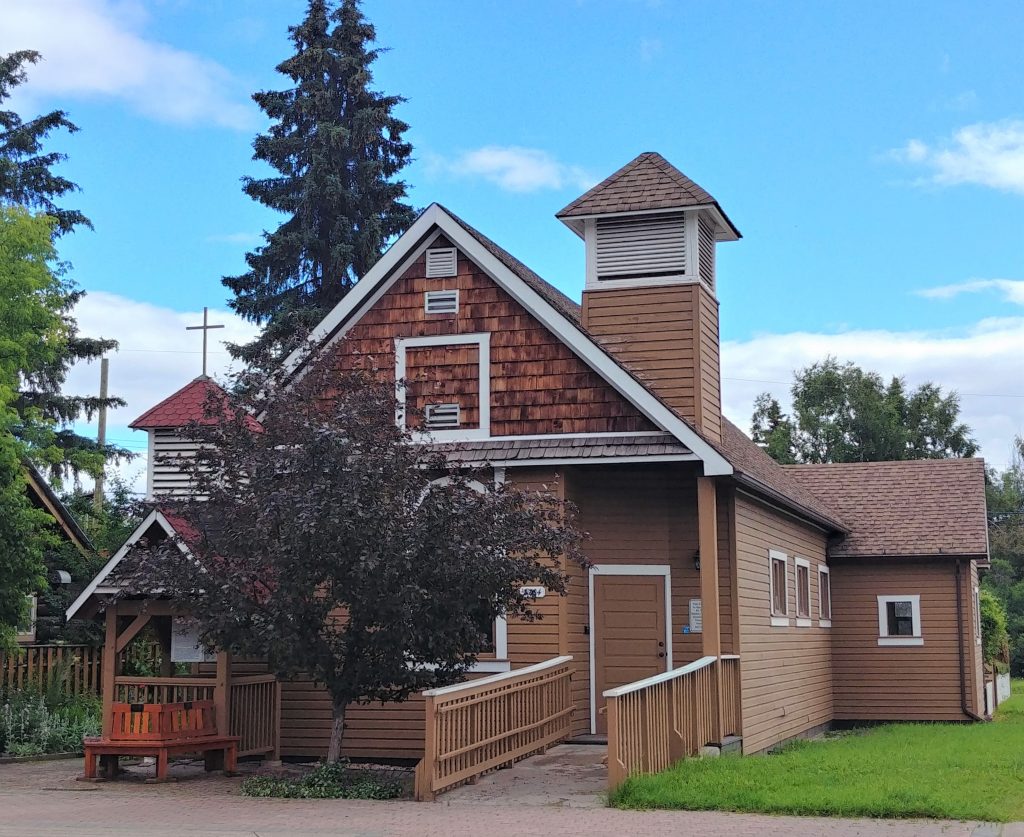 The Old Church was first constructed in 1913 as the St. James' Anglican Church. For over sixty years the Church was a spiritual and community centre in Smithers.
After the parish of St. James moved to its new home on Princess St. in 1975, the original church was left unused and suffered from disrepair and neglect. In 2005, thanks to the dedication and vision of a dynamic group of volunteers, the building was resurrected as a community hall. Administered and maintained by the Bulkley Valley Museum, today the Old Church is a popular community events space for dozens of weddings, lectures, parties, meetings, concerts, and performances each year. Rental of the Old Church is the Museum's primary fundraiser, supporting our mission to collect, preserve, and present our community history.
The Old Church Garden was developed in 2006 as a public urban green space. The gardens rely on the work of enthusiastic volunteers for their upkeep. If you are interested in helping out, please contact the Museum at 250.847.5322 or info@bvmuseum.org
Renting the Old Church
The current rental fee is $30 per hour (minimum 2 hours) + $25 cleaning fee. For full fee information, including flat rates for longer or multi-day rentals, as well as deposit information and pricing for additional amenities, view a copy of the Old Church Rental Package. (note: if using Chrome as your internet browser, please download the PDF to your computer and open in Adobe Reader. Some pages do not appear in Chrome PDF preview)
Capacity: for fire safety, the maximum capacity of the Old Church is 80 people at any one time. We recommend for seated events that the maximum comfortable capacity is 50-60 people.
For availability please contact the Bulkley Valley Museum 250.847.5322 or by email at info@bvmuseum.org.
Address: The Old Church is located at 3704 First Avenue (corner of King and First).
­Amenities
For full amenity information, as well as FAQs and an inventory of what's at the Old Church, please read the Rental Package.
Basic amenities: All renters have use of the Northern Health approved kitchen, including dishes, fridge, stove, coffee makers, kettles, etc. Amenities available with every rental include use of the tables and chairs, the piano, two gender-neutral washrooms (one accessible), screen and projector system. The Old Church has free wireless internet, supported by CityWest.
Please note we do not rent out the Old Church's tables, chairs, etc. for offsite events. 
Additional amenities available for rent: wine glasses ($22), microphones and sound board ($22), stage lighting system (for concerts and performances, $22). The Old Church sound system includes an induction loop system (hearing loop or t-coil) to assist those with hearing impairments.
Take a look inside!
Click here to virtually see inside the Old Church using Google Street View. Thank you to Eric Becker for doing the capture for us!
***Please note that these images are provided to give a general overview of the Church interior, and that specific decor or amenities are subject to change without notice.