The following blog post was contributed by the BV Museum's 2020-21 Oral History Intern, Cassandra McKenney.
The communities of the Bulkley Valley have so many stories and perspectives that have never been recorded or publicly shared. Oral history interviews give us an opportunity to capture these voices and archive them for future research or exhibitions. The Bulkley Valley Museum's recent Oral History Project started as a continuously expanding list of people who might be able to share these stories. Eventually after several years, the list became long enough to apply for a grant to buy equipment and hire someone to both record these people and prepare for more interviews in the future.
I started working with Bulkley Valley Museum as Oral History Intern in October of 2020. My duties were to conduct interviews, lead a group of volunteer interviewers, and create procedures for future work. My first task was to asses the current oral history collections to identify what sorts of stories were missing, and add to the list of names of potential interviewees. The museum's existing collection of about fifty interviews was slowly compiled over time, with the majority recorded in the mid to late 1990s. There were some terrific interviews with great stories in the existing collection, primarily recorded with the adult children of early settler families to the area. These perspectives are very important, but were limited to a specific set of experiences within a certain range of time. The Bulkley Valley is a diverse place, and the addition of recordings from interviewees with different perspectives – including new Canadian citizens or recent immigrants, recent transplants to the Valley (example, those who moved here within the last 20-30 years), youth, and Indigenous community members – would add to our understanding of the lives of former and current residents of the Bulkley Valley. This project also presented an important opportunity to capture second and third generation stories from settler families.
Before I started the position, new audio equipment had already been ordered. Recording technology has substantially improved since the interviews from the 1990s were conducted.  A basic mixer designed for podcasting, the Podtrak P4, was ordered, along with three accessory kits that each contained a pair of studio headphones and a microphone. This equipment was chosen due to the reviews of its recording abilities, and its simplicity and accessibility for new users. It also offers the opportunity to record interviews over the phone if needed. After learning to use the equipment, I created an Oral History Procedures and Equipment Operation Manual, so staff and volunteers in the future will be able to jump into interviews much quicker without spending time researching equipment and software.
The funding application for this position, and the project itself, were both conceived pre-Covid, and have been undertaken in a very different environment than what had been expected. While this presented a challenge, the Museum determined it was best to proceed with the project while making it as Covid-safe as possible. While waiting for the project to begin, two elderly community members that we had hoped to interview passed away; this both highlighted the importance of conducting this project, and gave a sense of urgency to proceed despite the pandemic. Thankfully, our recording equipment included 6ft. long mic cables, which enable the interviewer and interviewee to be physically distanced while the interviews were recorded.
Once information release forms had been updated, the equipment was ready to use, and a COVID-19 safety plan was created, it was time to begin interviews. While some museums and organizations conduct interviews for specific projects, we have taken a more general approach with the goal of recording diverse experiences and focusing on the general themes of life stories, daily life, and change. This approach was also consistent with past interviews already in the museum's collection, which largely focused on themes of daily life and activities for early settler residents.  I was a bit hesitant about going into interviews with such a broad approach to questions and topics, but I am very happy with the results. I start my interviews by asking about my interviewee's family and childhood, whether it was in the Bulkley Valley or elsewhere, and then moved onto schooling, employment, and community involvement. If my interview subject was not raised in the valley, I also ask about their journey to the region and if they remember their first impressions of the valley. These sections take up a majority of the interview, but I always end by asking for reflections on the Bulkley Valley's evolution during their time here. What has changed? What hasn't? The answers have been extremely diverse, with people mentioning everything from architecture, to infrastructure, to culture and social activities, to demographics.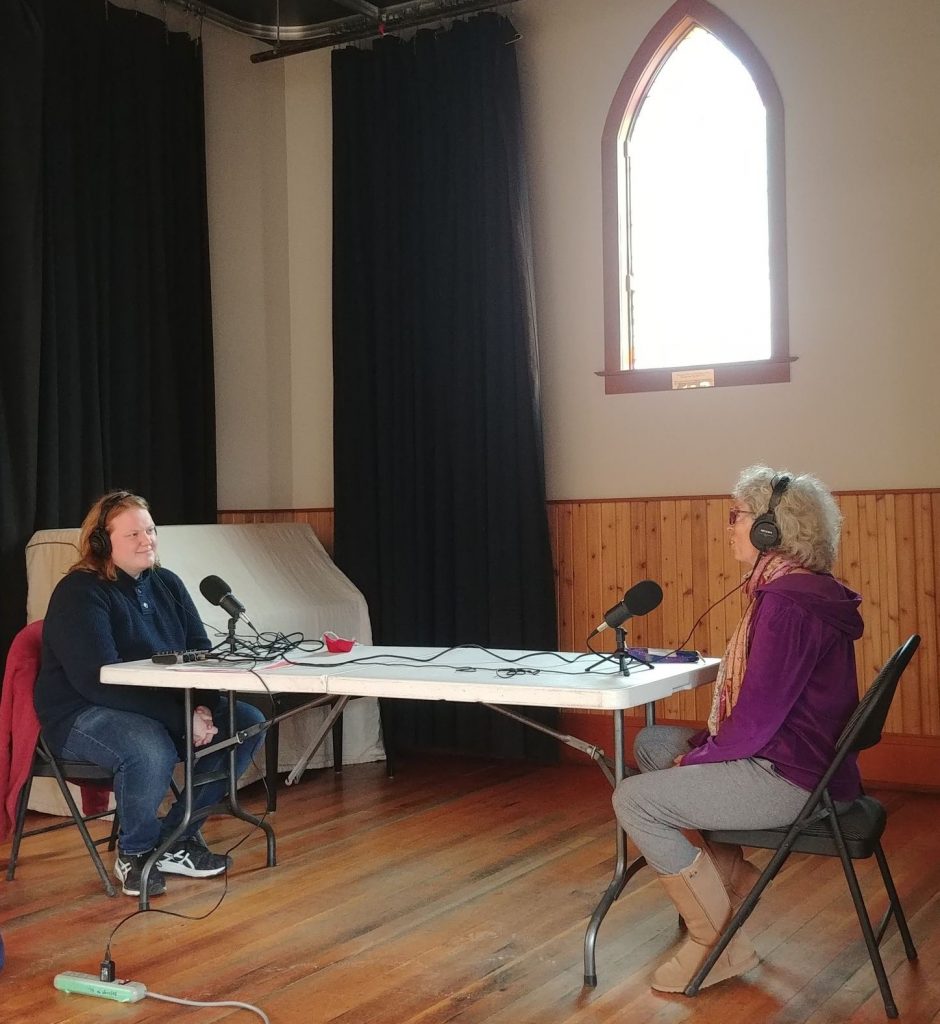 I purposely ask open ended questions about these topics to encourage people to tell the stories that they want to tell, rather than dictate the sort I want to hear. I firmly believe that, while the role of the interviewer is to guide the interview and give it structure, the contents should largely be in the hands of the interviewee. This approach might not always work for interviews on a very specific topic, but for our broad approach it enables us to gather stories and thoughts that are relevant to interviewees and allow our collection to more accurately reflect what is important to the people involved in both the past and the present of the Bulkley Valley.
In the process of interviewing, an opportunity to recruit twenty-eight extra interviews arose. After talking with a teacher at Smithers Secondary School, I gave an Oral History presentation to two classes. Afterwards, the students interviewed each other to capture the stories of teenagers in Smithers in 2021. Often the history of youth is told by parents and educators, but this was an opportunity for students to tell their own stories for posterity. There are plans to conduct a similar project at another local high school.
The museum was also successful in a grant application to the New Horizons for Seniors Programs. The funds were used to both buy the recording equipment, and to enable senior volunteers to interview their peers in the community. The museum was lucky enough to recruit an extremely passionate group of volunteers who bring connections and lived experience to interviews that I simply don't have as someone who has only recently moved to the area.  The volunteers will be interviewing seniors from across the valley until March 2022.
Together the interviews conducted by myself, our group of volunteers, and numerous high school students in Smithers and the Bulkley Valley create a deeper level of understanding about the people who make up the Bulkley Valley, their lives, and the important events in our history. Now that the museum has the necessary equipment and procedures, interviews can continue and the collection can continue to grow to better reflect the diversity of lived experiences in our region.
Cassandra's internship was made possible through Government of Canada support through the Young Canada Works Building Careers in Heritage internship program. Additional funding for the recording equipment, staff time for editing, and honouraria for the senior recorders was provided by the Government of Canada through the New Horizons for Seniors grant program.