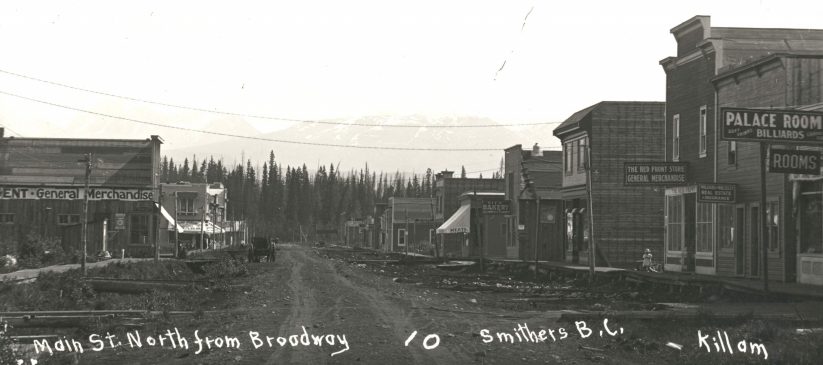 The following blog post was written by Dirk Mendel and Harry Kruisselbrink and originally published in the March 2016 edition of "Autumn Leaves", the newsletter of the Smithers Senior Citizens Association.
Early Life and the Klondike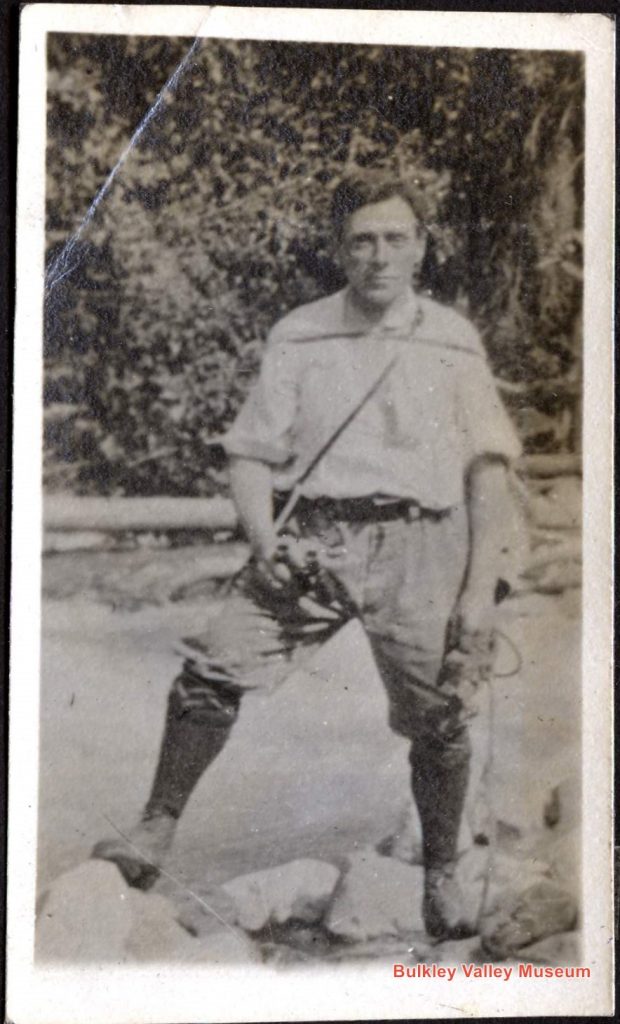 Gilbert Clark Killam was born in Yarmouth, Nova Scotia on March 6th, 1863 to John and Lucy Killam. Gilbert's mother, Lucy, passed away in 1872 and Gilbert's father then married Mary Louise (Hamilton) in the following year. Gilbert had eight siblings.
According to the 1881 Nova Scotia census, Gilbert still lived at home in Yarmouth in 1881. Later that year he moved first to Massachusetts and then, in 1886, to California. Gilbert married Jennie (Mary Jane Sanderson) from St, Peter's Bay, Prince Edward Island, on July 6th, 1891. Their three boys were born south of the border; Arthur in 1892, Gilbert in 1893, and Thomas in 1897. In April 1898 he went to the Klondike as posted in the Los Angeles Herald, of September 10, 1900:
RETURNED FROM THE FROZEN KLONDIKE C.G. Killam Talks About Alaska Gold Fields Pasadena. Sept. 9.
G. C. Killam of this city has returned from Alaska on a visit to his family. Mr. Killam left Pasadena for the celebrated Klondike gold fields in April 1898. He stopped for a short time in Victoria and then went to Alaska and landed finally in Dawson. This place he found, even then, a bustling city. He acquired claims on Dominion Creek about 40 miles from Dawson which property he still possesses and is constantly working. According to Mr. Killam the gravel containing the precious metal is not on the surface but lies three to thirty feet below the surface under what is known as "muck." On his claim on the Dominion he was obligated to dig down 24 feet before coming to the pay gravel. At this depth the earth is frozen constantly and before the gravel can be taken out it must be thawed. The thawing operation is carried on in the winter, when the gravel is taken out and put aside in great piles to await the summer sun to thaw out. Mr. Killam brought home some curios in the form of great bones which he dug out of the depth of 28 feet. One of the bones appears to have been the knee joint of a monster animal. It is 11 inches wide now and it  must have been wider. It had lain in its frozen bed, doubtless, for countless ages, and still remains in a well preserved condition. Great sections of tusks were found, also, seven inches in diameter and weighing 400 pounds. It is estimated that both tusks of the monster in life must have weighed somewhere near 1,600 pounds. Mr. Killam intends going back to his northern residence in a week and will take certain machinery with him for use in the mines. His family will remain here.
By 1903, Gilbert Killam was living in Dawson City, Yukon where he was a customs agent. That year he entered a bid for a design on the Carnegie Library to be built in that city. Though his design was not chosen due to selecting stone as the building material, the Yukon Sun described it as an 'architectural dream.' The 1911 census shows the family was living in Vancouver, the two older boys were working as clerks and Gilbert Sr. was still with Canada Customs. The Killams came to Smithers around the time the town was starting up in 1913.
Life in Smithers and the War Years
In Smithers Gilbert hung his hat as an architect and he left behind a series of photographs showing that he was also an excellent photographer. His photographs, most of them on 5 x 7 or 8 x 10 inch glass plate negatives, had been stored in the post office after his departure from Smithers and were basically forgotten. They were discovered in a storage box in 1954 while moving the original post office on Main Street to its new location, also on Main Street. His many photos of Smithers are treasured today and stored in the archives of the Bulkley Valley Museum. They provide a wonderful record of the beginnings of Smithers and its first four years of development. The photographs are all of the highest quality. There are photographs of the downtown Smithers area but also of Smithers from the hillside behind the railway offices, as well as its surrounding rural areas, as far away as Hazelton. All of his photos carried the signature "Killam" usually written on a downward slant or his initials G.C.K. It must be  remembered that cameras were big in those days and also that roads were practically non existing so one can only imagine the work that went into many of his photographs!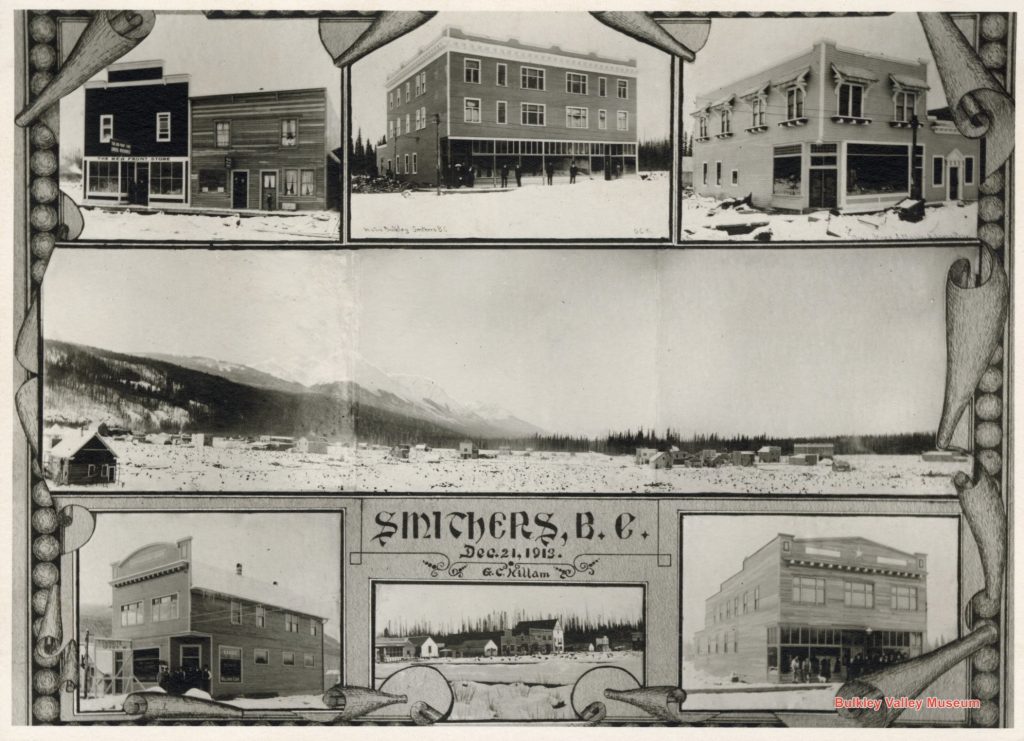 While in Smithers, Gilbert was also active in community affairs and served for a time as treasurer of the Smithers Citizens' Association, a form of quasi-local government and Chamber of Commerce in the years before Smithers became an incorporated village. He left Smithers in 1917 and returned to Vancouver. There, despite his age, 54 at the time, he was determined to join the army during World War I. To accomplish this, he shaved ten years off his age. That allowed him to just barely meet the maximum allowable enlistment age of 45. He may have 'shopped around' to find a recruiter to take him as he joined up with the British Canadian Recruiting Commission which recruited British subjects living in the United States. He served in the Sixth Field Company. From his enlistment forms, we know that Killam was a short man, five four, four and a half inches tall, with a sandy complexion, brown hair and brown eyes, weighing 162 pounds. In May 1918 he was a Sergeant Recruiting Officer for the mobile British recruiting mission in Portland, Oregon. Attestation papers were signed in Vancouver in October 1918 indicating his falsified birth date. According to the attestation papers his wife Jennie was living with their son Thomas in Seattle who worked for the Canadian Bank of Commerce. Gilbert was demobilized in 1921.
In 1920 Gilbert lived for a time at 1803 Belmont Avenue in Victoria (which is now a heritage home) with his son Arthur and his wife Louisa Jane (Bickle). Louisa's father, Thomas Bickle, contracted Chinese workers for the Dunsmuir coal mines on Vancouver Island which was a very controversial move. Arthur was a manager of Fleck Bros mining and sawmill supplies in Victoria.
Later Life
In Palm Springs, 1935, the following newspaper clipping was published:
KILLAM CELEBRATES ANNIVERSARY; TELLS OF ALASKA FRONTIER The Desert Sun of Palm Springs California, December 20, 1935.
G. C. Killam, local building contractor, on Sunday celebrated the 50th anniversary of his arrival in California. However, not all of the 50 years have been spent in this state,for the Alaskan gold rush called him to the Yukon in 1898, and be remained in the Yukon Territory for 15 years. He was born in Nova Scotia, later locating in Massachusetts, and at the age of 23 came to California. Mr. Killam discovered gold along Dominion and Bonanza creeks, and made a fortune, but he invested it in other mines which did not prove profitable. Most of the time was spent in the vicinity of Dawson and Whitehorse. The mining camps of the Yukon were not the wild places they were pictured to be in fiction and motion pictures, said Mr. Killam yesterday. "The people were just as orderly and law abiding as we are here right now," he said. "When gold was discovered, the Canadian government immediately sent the Northwestern police and a company of militia into the territory, and they certainly knew how to maintain order". These officers had the record of every criminal in the  United States and Canada, said Mr. Killam, and when one of these crooks attempted to cross into the Yukon territory, he was recognized, and warned to keep on moving down the river. If one of them did enter, he was arrested on the slightest provocation and given a long term sentence. No one was permitted to carry a gun, and anyone caught with firearm was arrested and sent out of the territory. "I have carried 50 pounds of gold on my back from the mine to the bank,'' said Mr. Killam, "without fear of being molested, and I have seen mules, loaded with gold, with only one man leading the mule but no one was robbed. Gambling houses and saloons ran wide open, but there were always enough men watching to see that the games were operated squarely, and no rough-stuff was tolerated." In those early days, he said, all supplies and equipment for the Yukon and Klondike camps had to be transported on dog sleds in the winter, for there were no roads for summer travel. Steamers brought the supplies north in summer, discharging their cargoes at Skagway and other Alaskan ports. As soon as the streams were frozen over and the ground was covered with snow, the goods were taken overland.

Mr. Killam said the Yukon territories in summer time is the most beautiful region he has ever seen. The combination of continuous sunshine nearly 24 hours a day, and warm air, produces luxuriant vegetation. When Luther Burbank visited that area he said Alaska and Yukon would be the greatest root-vegetable producing area in the world. It will produce bumper crops of grain in a very short time, but due to the fact that it is so far from any large markets, it is unprofitable to engage in farming there. Mr. Killam is 73 years of age, but he as agile as a man in good health 25 years his junior. His active life in the rigorous climate of the North so strengthened him that even today he could set a brisk pace for the young men of the community on a hiking trip. He yearns to return to Alaska for a summer's stay, and is planning to do so in the next few years.
Gilbert never returned to Smithers. He did have the  frequent urge to travel as can be seen from his trips to the Yukon and many places he lived. He later lived with his son Arthur and family in Vancouver until his death from hypertensive heart disease on October 27, 1945. He was 82 years of age.