The BV Museum recently added a new item to our collection: a ticket for a whist drive held on Thursday December 8th at the Town Hall in Smithers in aid of the Bulkley Valley District Hospital. For those who haven't heard of whist, it is a trick-taking card game played in pairs, similar to Euchre, and also considered a forerunner of Bridge. While quite popular in the nineteenth and early twentieth centuries, it is seldom played these days.
The item was found in a house on First Avenue that was undergoing renovations. As many of Smithers' surviving heritage buildings and homes are located in the downtown core and adjacent side streets, it is no surprise that little treasures like this one sometimes turn up in the walls or under floors.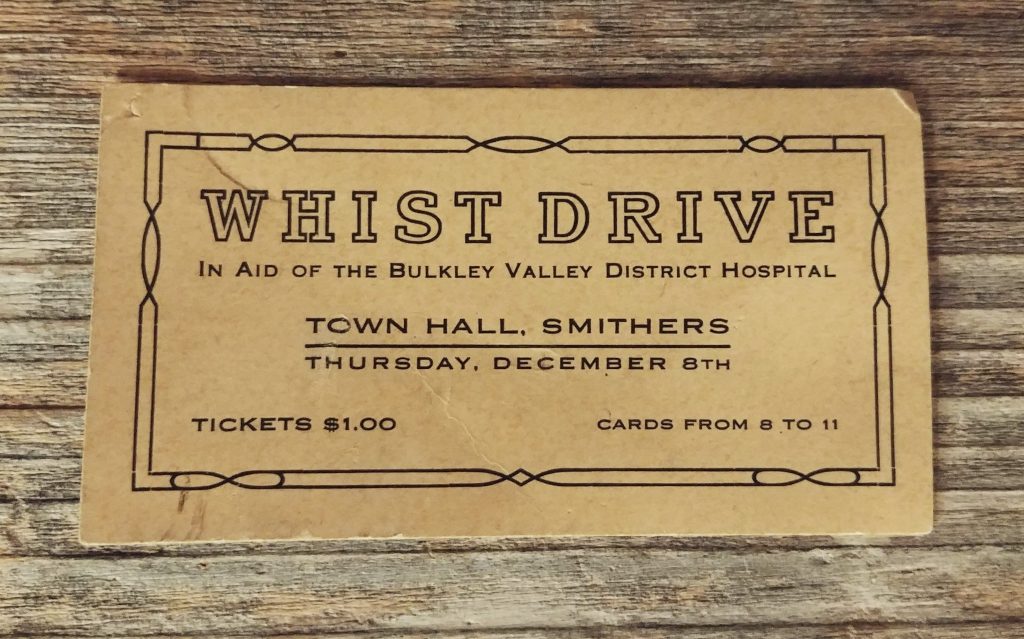 While quite small, and fairly plain, there is a lot of information that we can unpack from this little ticket, which we in the museum and archives world would refer to as a piece of ephemera.
Ephemera refers to a broad spectrum of items often found in museum and archival collections, including tickets, matchbooks, greeting cards, post cards, posters, invitations, pamphlets, menus, wrappers, ink blotters, pens, business cards, stickers, and more. Essentially, the category of ephemera includes any type of item that was made with the intent of being used or enjoyed for a short time only, and then discarded. They were not intended to be preserved and saved, which makes the examples that survive all the more precious. Think of the number of ticket stubs, wrappers, posters, Christmas cards, and other items you have recycled or thrown out over the year, and how few of these items are saved. People throughout history have treated ephemeral items in much the same way. In 2016 the BV Museum presented an exhibition of items of ephemera from its collection, which included greeting cards, candy boxes, tins, matchbooks, ink blotters, Paul's Bakery bread packaging, and more. Many of those items were advertisements for local businesses, and these items can tell us interesting things about when businesses and organizations existed, and what type of activities they were engaged with.
Back to our whist drive ticket. As we studied this item, the first thing that we were interested in was figuring out was the year the event occurred. There were two clues on the ticket that helped us narrow the date: that it was held at the Town Hall, and that it was for the Bulkley Valley District Hospital.
The Smithers Town Hall was at the corner of Main Street and Second Avenue. It was constructed in 1920, one year before Smithers officially incorporated as a municipality. The building served as the town hall until 1927, and in 1930 became the Elks Hall until 1950. The establishment of the first Bulkley Valley District Hospital in the Todd Building on King Street was also completed in September 1920. Based on this information, we could safely rule out the years 1913-1919.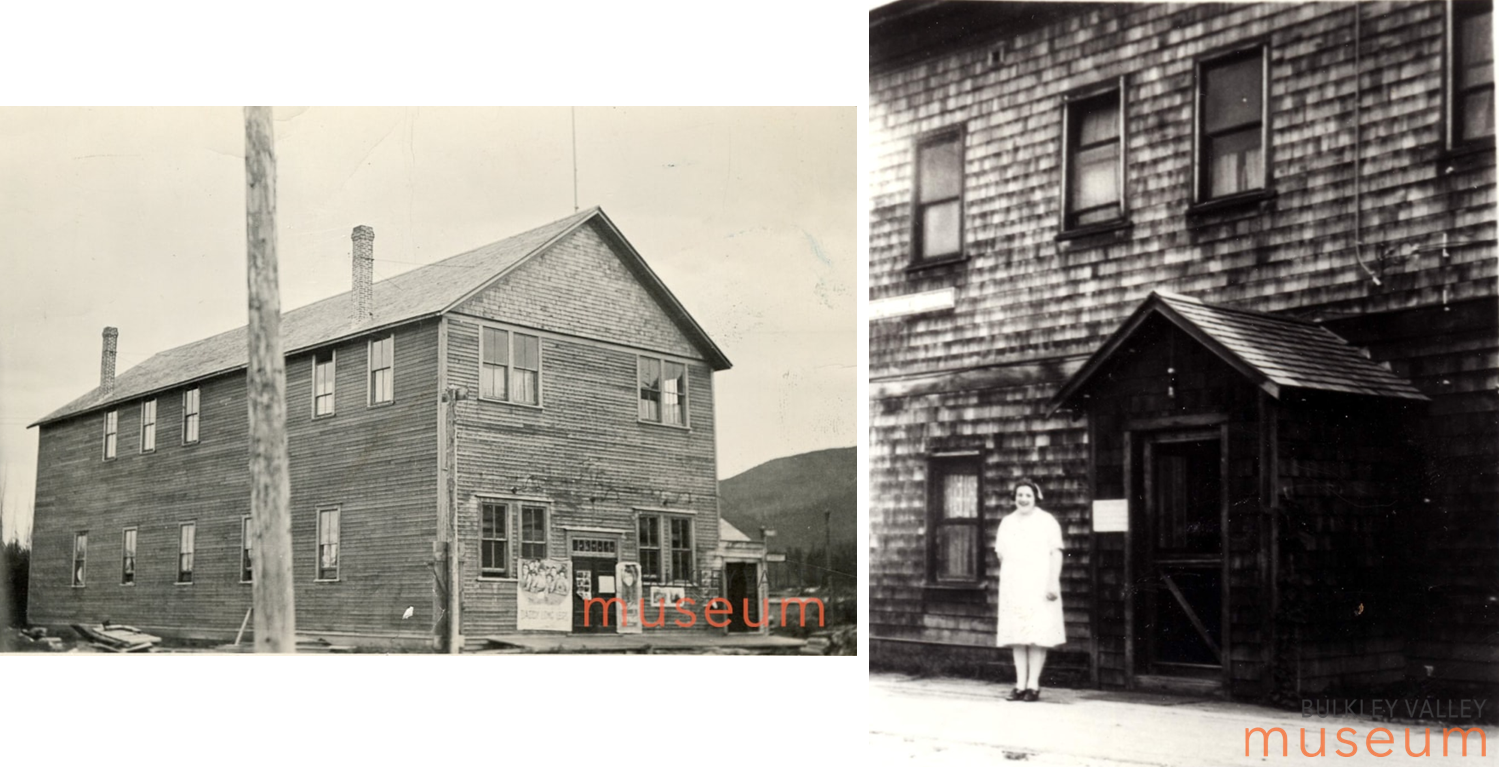 December 8th fell on a Thursday in 1921, 1927, 1932, and 1937, and based on the design of the card and the price of the ticket, any of those seemed plausible. A search of the Interior News online confirmed that a whist tournament in aid of the hospital had been held on December 8th 1921. The newspapers provided additional details not recorded on the ticket, which was that the whist drive also included a dance, and was hosted by the BV District Hospital's Ladies Auxiliary. This information tied the ticket not only to the history of volunteer causes and philanthropy in Smithers, but also the important role that women have played in community development and fundraising.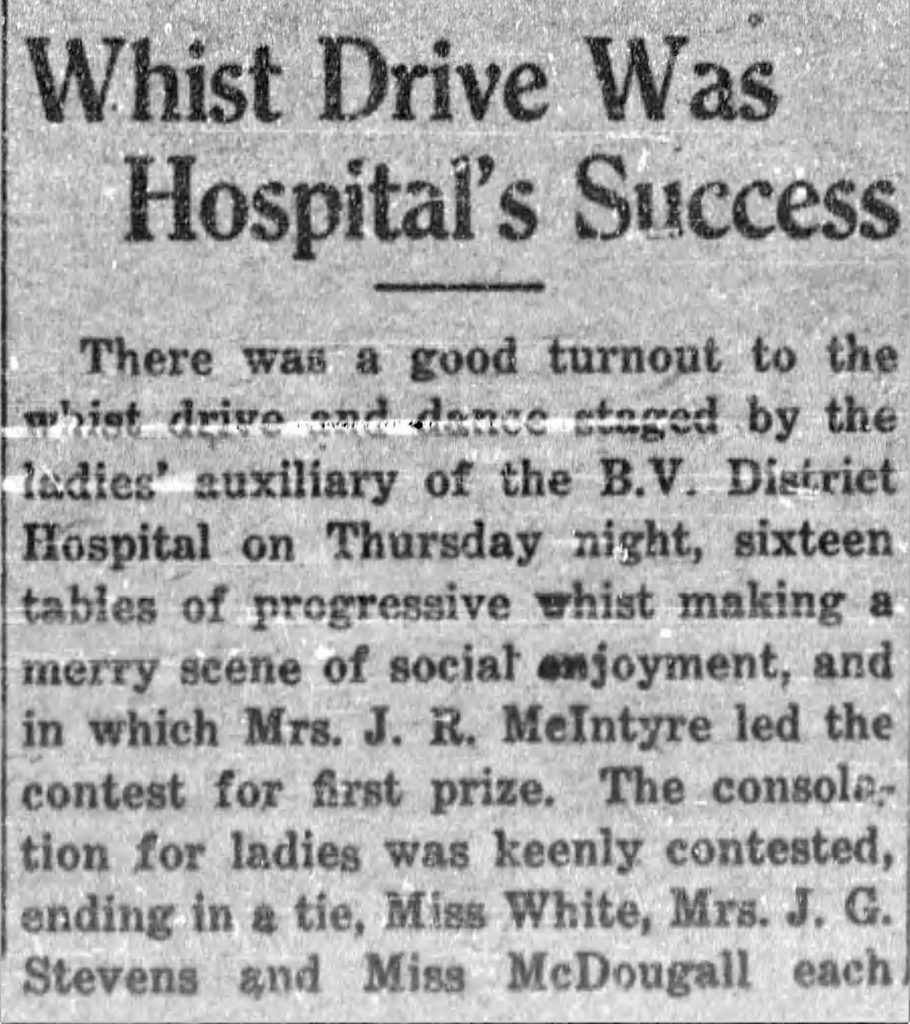 For over 100 years, Smithereens have donated their time and hard earned money to support the betterment of the community – from the essentials, like hospitals and fire fighting, to the "nice-to-haves" like recreation facilities. This history is well documented throughout the museum's collections, from programs and pamphlets that feature local business sponsorship ads, to items like the 1923 BV District Hospital annual report that lists cash donations as well as supplies donated to the hospital that year.
As it remains today, fundraising in past decades was often in the form of community events, like the whist drive. These events not only raised funds, but also provided important opportunities for entertainment, socialization, and community connection in a time before television and the internet. Dances, picnics, tea parties, card tournaments, bazaars, and concerts were just some of the events that are regularly advertised in the Interior News throughout the year. These events also supported the development of local arts and culture, as they required the talents of local musicians, such as Gray's Orchestra or the Smithers Band.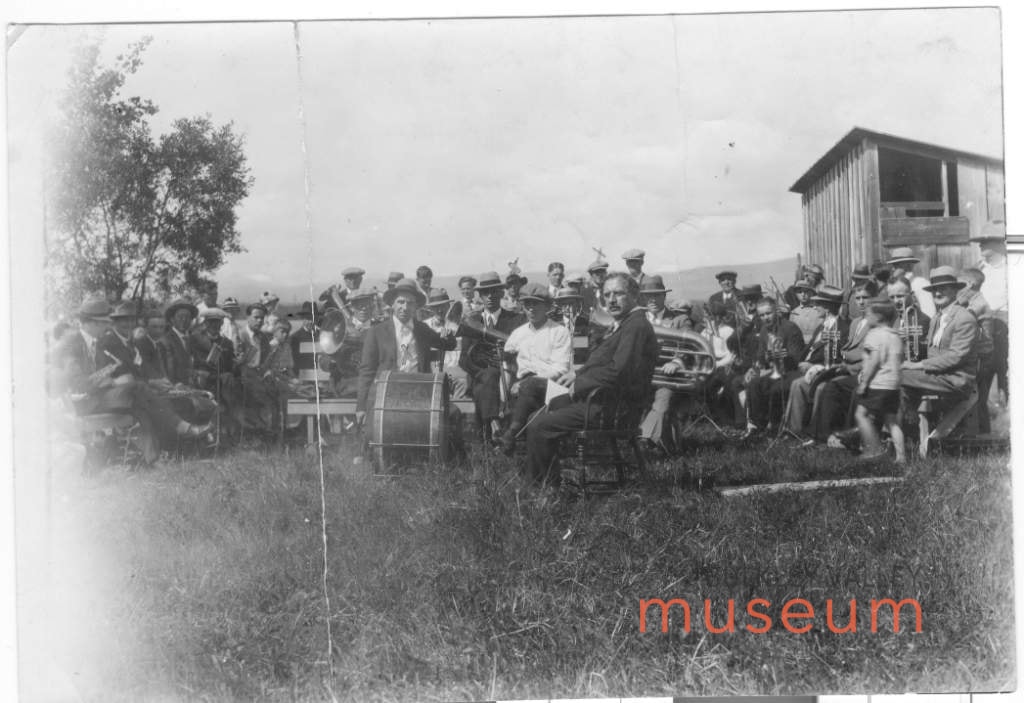 In 1921, the same year as the whist drive, we see numerous fundraising events in aid of various causes advertised in the Interior News, including dances in aid of the Anglican Church, the Athletic Club and the Smithers Boy Scouts, a movie night in aid of the Fall Fair, a performance for the Methodist-Presbyterian Church building fund, and a bridge tournament to raise funds for the construction of the nurses' residence on King Street.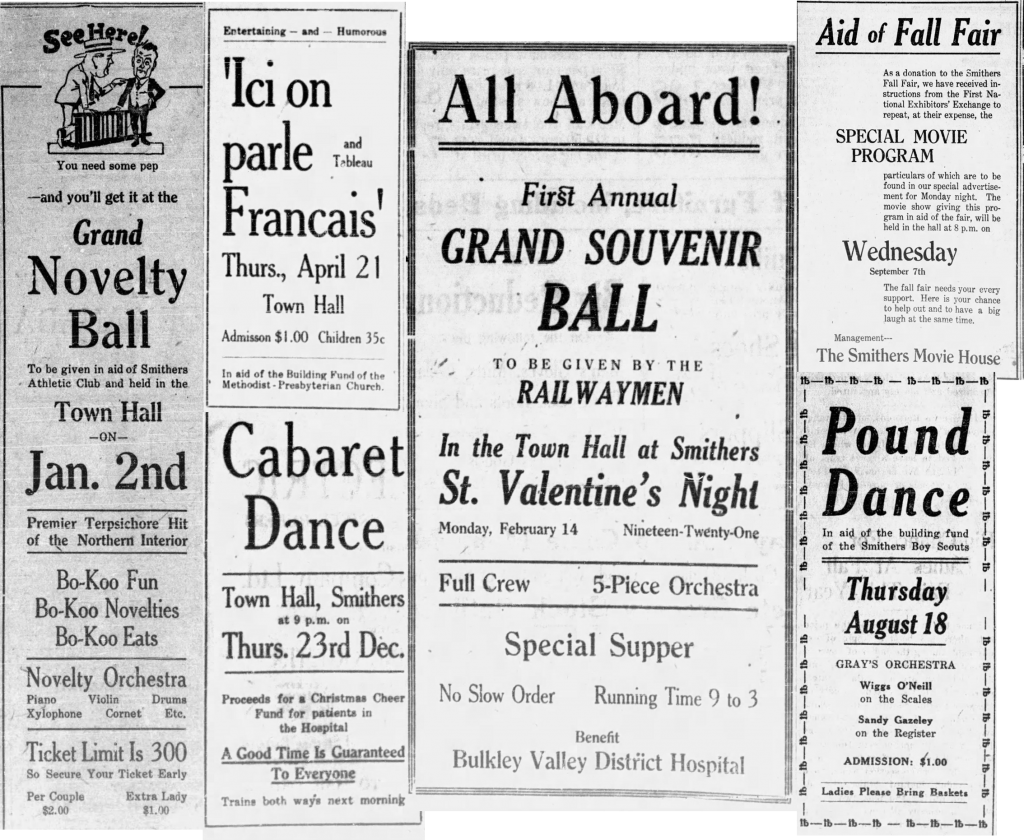 Many of these events, like the 1921 whist drive, were organized by women's charitable organizations, such as the hospital auxiliary. As we know, women, particularly married women, did not often work outside of the home in the early part of the twentieth century, although there were women in Smithers who owned their own businesses, had key roles in family businesses, or worked for larger industry projects.¹ For most women, their labour was dedicated to the home and the family. Today this work is referred to as "invisible labour" and is recognized as including domestic tasks that fall under keeping a house, rearing children, and caring for elders; working women were also expected to do this work in addition to their job outside the home. This work in the home was of course unpaid, but essential to society. And as we see through their participation in fundraising and community building, women also contributed their time and their skills to support neighbours, and community organizations and causes. Whether it was a donation of time to help organize a dance for the Red Cross during the First World War, contributing baked items to a bazaar or church supper, or sewing pillowcases and sheets for the hospital, this time and energy was essential to the development of a small community. Volunteer organizations and causes also provided women with an opportunity to socialize, and to put into practice their organizational and communication skills – skills that they may have developed working outside the home prior to their marriage. These women were intelligent, capable, and motivated, and the results of their work included thousands of dollars in fundraising for important community causes.²
A century of volunteerism and fundraising has made our community what it is today. The whist drive of 1921 is just one small piece of that legacy, and we are so pleased to have it represented in our collection.
To see more examples of ephemera in our collection, or to view more items tied to the history of volunteerism, check out these links to lists of items in our Collections Online:
---
1. Examples of Smithers women who worked outside the home in the early decades of the town include Margaret "Peg" Warner, who opened the Smithers Music Store from 1918 to 1920 and was later the publisher of the Interior News after her husband's death, Margaret Dunlop, who opened the Smithers Fashion Shoppe in 1925, and Mary Mooseskin Jim, who worked for the Grand Trunk Pacific Railway company and was known for her physical strength and ability to carry two railroad ties.
2. It is important to recognize that race and socioeconomic status impacted whether or not individual women were welcome to participate in community and charitable organizations and causes, both within Smithers, and more broadly. Women of lower socioeconomic status and Indigenous and other racialized women were often excluded from white, middle-class settler society and its organizations. However, these women still worked to make contributions to organizations within their communities and circles, including in Smithers.